LoverWhirl review
17 January 2020
4 min read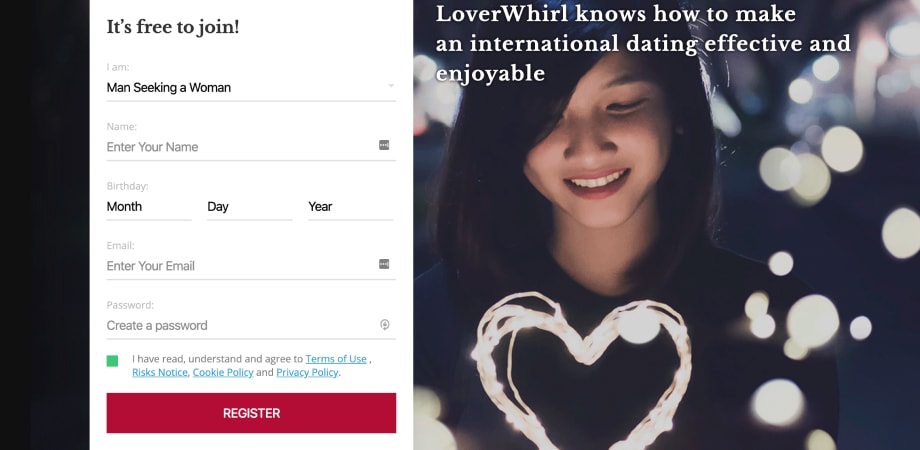 LoverWhirl: Feel The Energy Of Love
These days it's not embarrassing to look for a girlfriend on a dating site. It means that you don't need to limit your dating pool to colleagues, classmates and your friends' friends anymore. Moreover, if you feel that you have much more in common with ladies from other cultures than with local girls, you have awesome opportunities to find your soulmate that previous generations never had.
LoverWhirl, the dating site I'm going to review today, was created to help guys and girls – tired of their lame local dating scenes – to widen their horizons and meet singles from other countries they otherwise would not have come across. Most of its ladies are in Asia, and its male members mostly live in the U.S. and Canada. Though there are some exceptions, you're better off looking for another site if you're looking for something else, like an American man who wants to meet an American woman.
LoverWhirl is the site to turn to for singles who:
- Are serious about starting a romantic relationship online.
- Are attracted to Asian women.
- Are ready to deal with language and cultural barriers.
- Prefer paid dating sites over free online dating.
- Care about the safety and security of their personal and financial information.
- Like customer-oriented dating products.
Taking into account the fact that LoverWhirl is a premium dating platform that focuses on quality singles willing to invest their time and money in a serious relationship, I can safely say that most of these people are highly motivated to meet their lifelong partners online. So here you have strong chances of getting responses to your messages and even receiving chat invitations from women.
Recommended Age

35+

Registration

Free

Signup Time

10 min

For Singles Seeking

a serious relationship
Sign-Up For Free
It's absolutely necessary to sign up to be able to view profiles and explore the site's features. Without this as just a guest, you can only view information and regulatory pages.
To create your user account, open www.loverwhirl.com and enter the required information into the sign-up form. The site asks for your name, date of birth, email and password. It also requires you to indicate your and your partner's gender. Unlike most dating sites that are available in Asian countries, LoverWhirl connects both homosexual and heterosexual singles.
Once you fill in the sign-up form and click on the Join for Free button, you will move on to the account confirmation stage. Here you should check your inbox and open the welcome email from the site team. After clicking on the button in this letter, your email address will be confirmed and you will be redirected straight to the site.
Now you are just one step away from interacting with other LoverWhirl members.
It's highly recommended that you fill in the welcome questionnaire, which completes your member profile and provide the site with enough information to produce compatible matches for you.
If you share enough information, you will regularly get links to the profiles of women who meet your dating preferences and are looking for a guy like you. So it's worth investing a simple ten minutes to provide honest answers about yourself and the woman you are looking for here.
If you don't want to get matches and prefer using search tools in your online dating pursuits, you can have the option of skipping this questionnaire. You will be able to provide answers to these questions by editing your profile any time later.
The last page of this questionnaire asks you to choose the photos of women you prefer among eight profile pictures of random LoverWhirl members. Do it to improve the quality of your matches.
Search, Find, And Like
Besides its matching that produces awesome matches, LoverWhirl offers its most determined members three search tools.
The Simple search finds your dream woman based exclusively on her age, which is the most important quality for most of the site's male members. If you want a woman under 35 years old, you can adjust the filter to show you the profiles of women from 18 to 35.
Using the Extended search, you can add more filters, including religion, education, drinking and smoking habits, and even the marital history of your future partner, among other qualities.
Both the Simple and Extended search tools also allow you to narrow your search results to women who are online now and/or have already verified their LoverWhirl accounts by proving their identity to the site administration. All you need to do is put a check next to the "Is Online" and "Is Validated" entries.
A third way of searching this site is to play the Faces game. It's not a search tool in the classic sense, but it's worth considering it as such since it involves guys selecting the women they are interested in courting.
Playing this game, you flip through the photos of random women and click on the Like button under those you immediately find attractive. Each lady is notified by the Like she receives and can send a message in response. But you don't need to wait for her answer. There is a Chat button under each picture that allows you to send her a message immediately.
Subscribe And Enjoy Chatting
This site also has a well-developed mobile version to enable you to stay in close contact with the ladies you're pursuing.
On LoverWhirl, you can communicate with women at any time of the day and night. Due to the large size of its member database, hundreds of women are online at any given moment.
However, you have to go premium to enjoy communication here.
LoverWhirl has a straightforward pricing policy: you exchange your nation's currency for the site's "credits" and then use them to pay for the services you order. These services include minutes spent chatting, email sent, gifts ordered and requests submitted.
As a bonus, you also gain access to your statistics and can Like other members, add them to Favorites, and view the private photos of members who have answered to at least one of your messages.
A pleasant surprise is waiting for newcomers here. They get their first 20 credits for free, which enables them to test the site's features before deciding to buy a subscription.
Once you spend your test credits, you can purchase your first credit package by clicking on the Get Credits button on the upper righthand corner of your screen. All payments are made with bank cards and are reliably protected.
Today the site offers its members five credit packages. The smallest package of 20 credits will cost you $2.99, while the most extensive package of 750 credits should cost $149.99.
And if you regularly check emails from the site team, you will find discounts and special offers there, especially before the holidays.
I like LoverWhirl for its user-friendly interface. You can find all the needed tools right in the girl's profile page.
To send her an instant message, type it in the Chat form. The cost of using this tool is 2 credits per minute.
And if you want to start your communication with a long letter, just switch to the Mail form and type it there. The first letter up to 3,500 characters with several attachments will cost you only 10 credits. But every subsequent letter will cost 30 credits.
This site also offers its members several advanced features that are priceless at the latter stages of a relationship. Using these features, you can do the following things:
- Send your virtual girlfriend real gifts (Flowers and Presents);
- Exchange contacts with her (Request Contact Details);
- Get the help of the LoverWhirl team in planning and organizing a real date with your lady in her country (Set Up a Date).
For security reasons, the last two services are available only to people who have already proved their identity through the verification service. So that way, both you and your lady can be sure that you are giving your contact details to someone who is verified to exist.
Also, the LoverWhirl support team is always ready to provide you with any assistance you need.
Final Word
So if you want to date Asian women and are looking for a safe premium platform with a convenient design, large member databases, and straightforward pricing policy, LoverWhirl should work for you. This site has already helped thousands of singles to find their romantic partners. You can become the next satisfied member, but you will only know if you try.
Advertiser Disclosure
This site is a free online resource aimed to be helpful in comparing and choosing the proper dating service. It cannot and does not provide information about every dating site or dating site offer available.
The operator of this site receives advertising compensation in various forms from companies that provide the services appearing on the site. Such compensation influences the location and order in which the products or services are presented, as well as their rating.
At the same time, please note that the compensation received is not the only factor that impacts the content, topics or posts on the site. Our ratings, opinions or findings are based on the analysis of various criteria that also include brand market share, reputation, conversion rates and general consumer interest.
In addition, the site also contains various advertising materials, including but not limited to banners, video-materials, pop-ups, etc. The texts here are written in an artistic manner and may contain wording exaggerations.