RussianBeautyDate review
19 January 2020
5 min read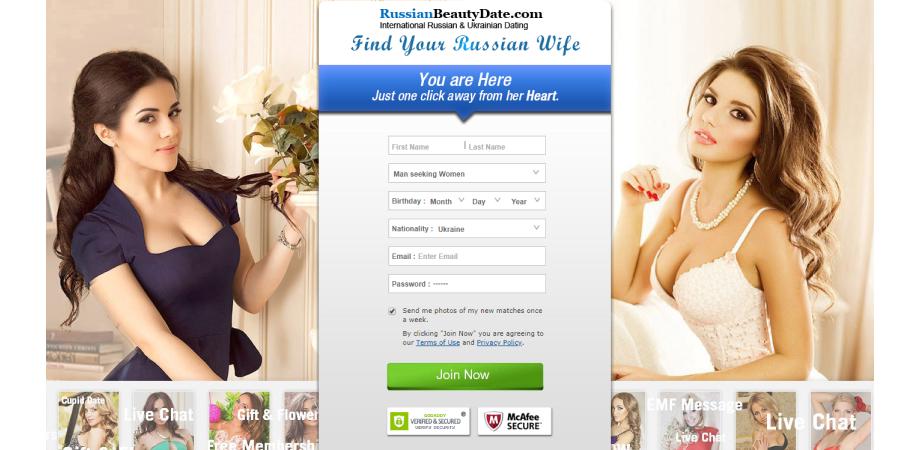 RussianBeautyDate: Look For Love In Russia
We are continuing to review popular dating sites for those who have abandoned offline dating because it just doesn't work for them anymore.
Today we are going to look at the venue called RussianBeautyDate. It is a premium platform that connects men from around the world with women from two Slavic countries that are well-known for their wonderful women – Russia and Ukraine.
This website is part of the QPid dating network that includes other geographical areas like Asia and Latin America, which are very similar to RussianBeautyDate.
Working in the online dating niche since 1998, this platform claims to have linked thousands of happy men and women who found their love online.
As the site doesn't have a specific focus, here you can look for any type of relationship, including even online flirting and friendship.
Women here like to take the initiative and actively send you emails and invitations to chat.
They also actively reply to your letters and chat messages. So you won't feel like you're wasting your time on this dating site.
Recommended Age

30+

Registration

Free

Signup Time

15 min

For Singles Seeking

Russian beauties
Register For Free
The process of registering at RussianBeautyDate is quick and straightforward. Here is a short guide for you:
1. Fill in the sign-up form. The form on the site's main page asks you to provide this information: your first name and last name, gender, age, nationality, email address, and password.
You also should indicate that you agree with the Terms of Use and Privacy Policy by putting a check under the password field. Once you've entered this data and placed a check, click on the green Join Now button to go to the next step.
2. Confirm your email address. After that, you'll be redirected to the CharmDate.com. It's a platform that brings together smaller sites of QPid family, including RussianBeautyDate.
Also, be ready for your personal information appearing on other family sites. It's a neat feature for those who want to try different dating sites without going through the registration procedure each time.
3. Provide answers to several questions about your perfect match. RussianBeautyDate has a matching algorithm that connects potential partners based on compatibility. To offer quality matches, it needs to collect some information about the type of woman you are looking for on this site. That's why you are asked to answer questions during your first log-in. If you don't want to use this service, you can close this window to skip this step.
Providing answers to these questions, you can choose what kind of relationship you are looking for on the site, including interests and hobbies you want to share with your future partner. Also, you can indicate the age, height, number of children, drinking and smoking habits, English level, and education of your dream woman.
Once the site has analyzed this information, you will see all the women who satisfy your dating criteria in your matches.
But if for whatever reason you don't like the women you see here, you can always edit the information you've provided and add more dating criteria by answering additional questions in the Match QA tab in your profile settings.
Although RussianBeautyDate doesn't require you to fill in your profile, upload a photo and share some personal information, you should do all these things if you want to increase your chances to meet someone special here.
To share some personal information, open the Profile Info tab in your profile settings, and fill in the fields you want.
Search For Women On RussianBeautyDate
RussianBeautyDate has only one search form that is aimed at satisfying the needs of all its members. Here men can apply different filters to narrow their search to find The One.
The basic filters include age range, country of residence, and interests of the woman you want to meet here. Keep in mind that the Country and Interests fields are drop-down lists so you can choose as many hobbies and countries as you wish.
Clicking on the More Options link in the search form, you can see additional filters to apply that include height, level of education, occupation, number of children, and religious beliefs.
Those believing in astrology can even choose the zodiac sign of their potential mate.
Also, here you can ask the site to show you the profiles of female members who are online now, have uploaded videos on their personal pages, and are available for chats or video calls.
Another way to see all women who are online now is to click on the Online Ladies link on the lefthand side of your screen to see all the options available.
And if you want to quickly find women of your type, visit the Smart Matches page. The significant advantage of this site is that it shows you all compatible matches immediately.
Obtain Premium Membership To Enjoy Communication Features
All communication features on this site are paid. But before paying for the subscription, you can earn bonus points for various actions on this site. You may get 5 points for uploading a profile picture, 5 points for verifying an email address, 5 points for verifying his mobile number, 10 points for getting the Qpid Seal (it's the website's own ID verification), 20 points for installing the QpidNetwork mobile application on your smartphone, and 50 points for obtaining a premium membership.
But the reality is that members can't endlessly rack up bonus points. So eventually, you'll need to buy a subscription to be able to communicate with the playful girls on this site.
Premium members can chat with newly introduced members for free and get priority responses from customer care.
According to the site's pricing policy, all transactions on RussianBeautyDate are settled in "credits" (the site's currency). So you should purchase some credits to be able to use the site's communication tools.
Here are the credit packages available:
- 2 credits for $3.99 (It's the first order special price. The regular price of this credit package is $15.99);
- 16 credits for $96.00;
- 100 credits for $399.00.
When making your first purchase on this site, you will get the one-month free premium membership that includes your first five emails, 20 minutes of chatting, and the ability to unlock all profile photos of other members. Once it has expired, you will be required to extend your subscription for $9.99.
Keep in mind that each credit package will expire after a certain period. That's why you should spend all your credits before the date of expiration.
Let's take a closer look at the communication features you can enjoy here.
- EMF Mail. Using this tool, you can send long letters of up to 6,000 characters to RussianBeautyDate women. Also, you can attach to your letter photos, videos, and virtual gifts at an additional price.
- Admirer Mail. This tool allows you to receive and read introductory emails from other members for free. So you can learn more about ladies who are interested in you.
- Live Chat. This tool allows you to enjoy the fun and romantic chatting experience. Inviting women to chat, you can exchange instant messages with them. The RussianBeautyDate chat also allows you to express your feelings through emoticons and stickers; send photos, videos, and voice messages. Also, this tool enables you to communicate with your girlfriend via Live Video chat.
- CamShare. It is a communication service for a two-way video chat. Compared with Live Video, it provides higher resolution video with a wider field of vision. Also, there are plenty of interactive tools available for both of you during the video chat.
Only members who have enabled this service can use it. So if you want to communicate with some woman via CamShare, you need to indicate this parameter in your search. Once you've found the perfect candidate, send her an invitation, and wait until she accepts it.
Call Service. This is an excellent tool for those who don't like texting. Using it, you can hear your date's voice as if she were next door. Using the call service, you can enjoy real-time communication, schedule calls, and ask other members to call you.
Virtual Gifts. On RussianBeautyDate, members can grab its lovely ladies' attention with virtual gifts. To do it, open the personal page of the woman you want to surprise, click on the Send Virtual Gift button, and pick a virtual gift you want to send.
Gifts & Flowers. Once you and your virtual girlfriend have gotten to know each other well enough, it's time to bring more reality into your relationship. The Gifts & Flowers service can help you do that by ordering the international delivery of gifts from the RussianBeautyDate store.
Also, there are a lot of discounts and special offers available on this site. Using the site, you will see different banners and popup windows advertising offers available to you at a given moment.
Final Word
This site is quite a good place for men seeking charming Slavic women. Although its pricing policy is a bit expensive on the market, you will find great value in its communication tools, including video calls. If you don't do the texting thing, if you're done with local dating, if you are ready to invest in your relationship, you should try your luck on this site.
Advertiser Disclosure
This site is a free online resource aimed to be helpful in comparing and choosing the proper dating service. It cannot and does not provide information about every dating site or dating site offer available.
The operator of this site receives advertising compensation in various forms from companies that provide the services appearing on the site. Such compensation influences the location and order in which the products or services are presented, as well as their rating.
At the same time, please note that the compensation received is not the only factor that impacts the content, topics or posts on the site. Our ratings, opinions or findings are based on the analysis of various criteria that also include brand market share, reputation, conversion rates and general consumer interest.
In addition, the site also contains various advertising materials, including but not limited to banners, video-materials, pop-ups, etc. The texts here are written in an artistic manner and may contain wording exaggerations.